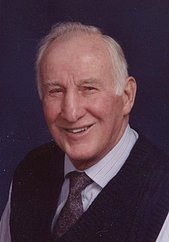 Friends of the MTHS Boy's Basketball Program-
On January 9th 2009 a dear friend and a founding member of the Mountlake Terrace High School family had passed away – former men's basketball coach Merle Blevins.
Coach Blevins started teaching at MTHS when the school opened in 1960. He taught carpentry and coached the men's basketball team for 16 seasons. In his final season, he led the Hawks to the AAA state championship with a win over Richland.
In his time at MTHS his teams won more than 150 games, made seven playoff appearances, won four Edmonds School District titles, won four WesCo titles, won three Northwest District titles, and made three state tournament appearances. Following his retirement from coaching, he continued to build homes in the area, including more than 50 homes for teachers in the Edmonds School District.
True to their commitment to our community, Merle and his wife Tillie donated land to the city of Mountlake Terrace that has become a beautiful trail. The first of just three men to serve as head coach of the Hawks, Merle Blevins will be deeply missed.
On behalf of all of associated the Hawks basketball, thank you.